Complete Custom Front Panels
Precision Graphics can build your panel in one process.
We can punch, machine, paint the substrate, and install hardware.  We can design, print, and cut the circuits, and then integrate components.  We can also print, and cut the graphic overlay, and then assemble the entire part.  Providing this whole process internally helps ensure beautiful registration between all layers while reducing lead time and cost.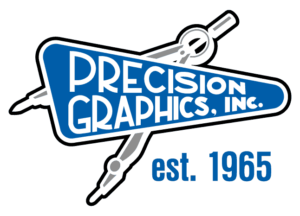 Founded in 1965, Precision Graphics has evolved into a leading manufacturer of custom front panels, graphic overlays, membrane circuitry, and name plates, all in one facility. With our roots in the printed circuit board industry, we have grown into one of the most versatile and trusted panel manufacturers in the United States.  We stay competitive by combining complete graphics and circuitry printing, with complete sheet metal fabrication and machining facilities.  Our products are beautiful, durable, and economical at a lead-time unmatched by others because we avoid markups, delays, and inconsistencies that occur with external suppliers.  This level of efficiency also means we eliminate minimum quantity requirements.  Short runs are our specialty.  Investments in the latest machinery enables us to confidently produce parts that are more complex than what most other manufacturers can offer.  With over 20,000 square feet of diverse manufacturing space, we have the capacity to handle the most comprehensive orders.  Contact our office with any questions or requests for free quotes of your next panel. We look forward to earning your trust!